A new Radiology journal generation for interactive Radiology case reports and Radiology review articles
Open access
Free submission
Free publication
Double-blinded peer-review
International authors, reviewers and editors
Unique interactive case reports and pictorial review articles
Indexed in Medline/PubMed,†Index Copernicus, OAIster, Google Scholar, Scopus, Embase†etc.
Affiliation with and article promotion by the largest international Radiology community Radiolopolis
Every article receives a DOI (Digital Object Identifier)
Publications available in multiple formats (HTML, PDF, Interactive articles, Video)
Any questions related to submission or review? Please post them in our discussion forum
Interested in becoming author or reviewer for the JRCR? Then join our JRCR group at Radiolopolis
New: Open Access Journal Meets Free Telemedicine Platform
Visit our partner MedPics - free Telemedicine setup for health experts
The JRCR CME section
Visit our CME section at www.journalCME.com
Announcements
Average article processing and review times

Due to the increasing amount of manuscript submissions and limited voluntary staff, free submission processing and review time has increased this year to an average of 5 months. Acceleration is possible...
Posted: 2020-09-10
More...

New Priority Pass Fees

From August 2020, the priority pass fees will be adjusted, with new discounts by our partnering network sites.

Posted: 2020-07-10
More...

Open Access Journal Meets Free Telemedicine Platform

We are glad to announce that the Journal of Radiology Case Reports has partnered with MedPics (

www.MedPics.com

), a free global telemedicine platform.

MedPics offers a variety of services for patients and health experts - many of them for free. 

We will introduce special features, discounts and other perks for our JRCR readers, authors and reviewers.

These will be announced on our site and social media outlets.



Stay tuned!

Posted: 2020-06-17
More...

COVID-19 cases for publication

We encourage submitting case series and review articles about COVID-19, which will be reviewed and published through an accelerated channel.




Alternatively, please contribute cases/imaging examples in our affiliated Radiology community Radiolopolis at http://www.radiolopolis.com/my_cases-new and might be acknowledged in a collaborate publication.

Posted: 2020-03-22
More...

Updated author and reviewer guidelines - effective July 1, 2014

The Journal of Radiology Case Reports updated its author and reviewer guidelines.
A few requirements for manuscript submission and the review process have been added to further improve the quality and educational value of the articles.

Posted: 2014-06-29
More...

Priority boarding pass for JRCR authors!

This post explains how authors can accelerate the review of their submissions and the publication of their accepted manuscripts.
Posted: 2013-09-30
More...
Vol 17, No 1 (2023)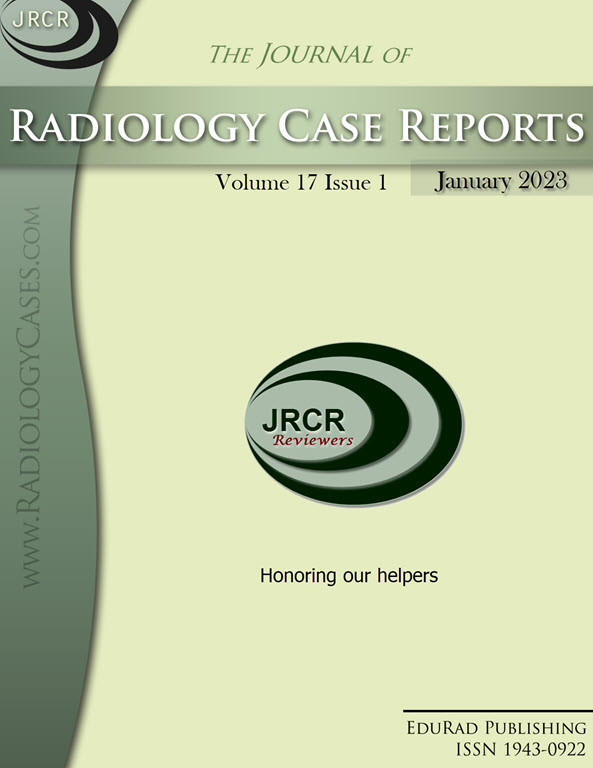 Journal of Radiology Case Reports January 2023 issue - Cover page: Honoring our helpers